Support software for preparing port entry forms for ocean going vessels

MARINE HELPER Ver2.0
Ver2.0 : Released

Jul.2008

Ver1.1 :

Sept.2005

Ver1.0 :

Apr.2005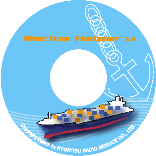 When entering foreign ports, ever had difficulty in preparing required documents for customs etc., or even failed to finish them before arrival?
'MARINE HELPER' is an improved model of support software product to fill up port entry forms, that in use for years on ships owned by major shipping company in Japan. It's highly efficient both in usefulness and cost performance.
We've released a revised edition of Marine Helper, Ver2.0. (For those who've already had previous edition, Ver2.0 will be given out for free.)
This revised edition has greater availability together with existing functions, such as addition and revision of information for 64 ports of 37 countries, function to edit Rank Code Table on Crew Data, function to save ALL forms into Excel format. Use of these data can be applied to wide range of documents making.
And, Ver2.0 also includes e-NOA/D InfoPath Template Ver4.4(Released Mar. 2008) which is used for electronic application to NVMC(USCG) in USA.
( NVMC(USCG) sometimes releases new versions of the e-NOA/D InfoPath template as needed. So, please pay attention to that. Details are shown on NVMC(USCG)'s site.

http://www.nvmc.uscg.gov/news.html )
Plus, Marine Helper has improved its usability by delicate modification. We hope Marine Helper will make for your cutback of paperwork on board and give efficiency of onboard management.
Features
Excel-base easy operation enables users to manage filling up complicated port forms promptly.
MARINE HELPER has lists of port entry documents of major ports of 68 countries including IMO Forms covering adequate amount to manage pragmatically.
Since it's designed eliminating useless functions and focusing on practical use, you can edit forms and adjust setting of print by manual procedures.
Importing and exporting data such as crew list by CSV format enables you to exchange data. Besides you can save ALL forms in Excel format. This feature provides interchangeable ways; for instance, ship-side can arrange easily to accounting form etc and edit crew list by downloading attached crew data files, which has been provided by shore-side, and vice versa.
The price is reasonable but it's cost-effective in terms of the advantage of decreasing workload.
List price ¥100,000
How to operate (See: quick manual or built-in manual)
After starting up, input [Voy. No.] 4-digit number and a mark (−,A, B). (You can save up to 3 files with one Voy. No.)
Input [crew/ship] data.
Select [IMO Forms] and/or [necessary country], then check on the lists of port entry forms, and fill up required forms.(You can select either [Crew certificate No. or Passport No.], or both on crew list.)
Print out or save the data. (If worked on new Voy. No., go back to TOP menu and press EXIT button and finally select the country to save the data and close (Default setting is available for IMO and Japan only)
Hardware requirement
OS: Upper than Windows 98-SE (Windows XP etc. / Japanese or English edition) equipped with USB port and/or CD-ROM drive. (**Unavailable on Windows-ME/Vista and Macintosh)
Project/Cooperation

Mitsui O.S.K. Lines, Ltd. (Marine Safety Div.)

Production Company

M.O. Marine Consulting Co., Ltd.

Editorial-supervision and Seller

Kyoritsu Radio Service Co., Ltd.